You've probably all heard about Thanksgiving, the American national feast. But I'm pretty sure that you don't about know these fun facts yet!
Thanksgiving is Americans' second favorite holiday, after Christmas : 91% of Americans eat turkey, and 20% of the cranberries Americans consume every year is eaten on that specific day. What's more,  over the thanksgiving break about 280 million turkeys are sold. It is worth about $3 bn.
The first Thanksgiving was celebrated in 1621, and believe it or not…there was no turkey on the table, but geese, duck, deer and fish. The goal was to unify the country, in a fest where english settlers and natives celebrates the end of the harvest season.
Lincoln made it a national holiday in 1863 : due to the insistence of Sarah Joespha Hale, Abraham Lincoln decided to declare the last thursday in November a national day. According to the president, Turkey should have even become the national bird, because the eagle was a "bad moral character".
This is the busiest shopping period : actually, it just kicks off the Christmas season! Probably also due to the "Black Friday", when sellers offer lots of promotional sales for a short period. This operations takes place in Europe too.
Each year, there is a turkey eating contest before thanksgiving : and there is a new record this year ! Joey Chestnut ate more than 9 pounds of turkey (4 kg !) in less than 10 minutes, and this for $5,000.! Awesome.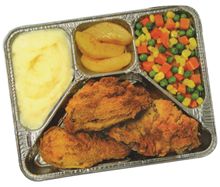 Thanksgiving is the trigger of TV dinner invention : in 1953, a turkey dealer bought far too many frozen turkeys (over 26 tons!), but had a great (?) idea. He sliced the meat and re-packaged it in a meal-tray. That's the way TV dinner was born !
Turkeys come from Turkey : English people bought this bird from Turkish markets, and simply called it "turkey". Of course, Americans also use this naming, because the American bird looks like the European turkey.
This is the worst (or best) day for plumbing services : due to holiday meal preparation and cleanup, huge quantities of unwanted waste are drained in household plumbing. "Often, the case is that a house already has partially clogged drains that go unnoticed, until holiday guests arrive and overwhelm the system". Nice.
And let's conclude with a famous quote from Arnold Schwarzenegger :
I love Thanksgiving turkey. It's the only time in Los Angeles that you see natural breasts.
Sources :