After successfully reducing the thinness of screens to almost an inch, also making them more convenient than those old Cathode Ray Tube (CRT) monitors we used to know, IT companies are setting up a new challenge to themselves :  to invent a display that could actually  bend like paper, allowing readers to wrap it up around their arm like a bracelet or like a telescope. It has been made possible with the invention of flexible OLED displays.
But what are OLED displays ?
OLED stands for Organic light-emitting diode. It is a film of organic compound that emits light when an electric current cross it. This film is situated between 2 layers of electrodes with at least one is transparent.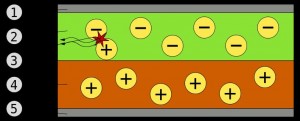 Schematic of a bilayer OLED (source : wikipedia.org)
This technology is frequently used to create digital displays such as television or computer screens, mobile phones and game consoles. It is not so expensive and lightweight, so it is used more and more to build low-cost displays.
Flexible OLED are similar to standard  OLED display, except that they are not built on a glass substrate, but on a flexible plastic that allows to bend them.
The idea of creating a flexible display was first put forth by Xerox PARC in 1974. An employee produced the first flexible e-paper display (a display that mimics the appearance of ink on a paper).
Then, in 2005, HP and ASU (Arizon State University) started research about flexible display.
Since 2010, Sony Electronics, AU Optronics and LG Electronics have expressed interest in this technology. For now on, only LG have announced plans for mass production of flexible displays.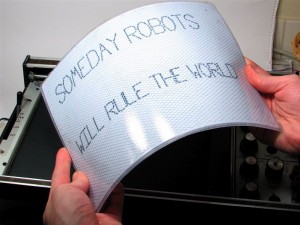 An exemple of e-paper (source : wikipedia.org)
Prototypes :
Currently there only are prototypes of devices using flexible OLED technology. Here are two of the most advanced ones.
-Samsung
In January 2013, Samsung officially announced the launch of their flexible OLED display technology, called YOUM display. They also previewed several prototypes using it, such as the Samsung Galaxy Round mobile phone that was just launched on 9 Oct. in Korea. It is not possible to actually bend the phone, but the flexibility of the screen allows the phone to be curved in such position.
Another unnamed prototype extends the screen to the side of the phone. With this additional "strip", it could be possible to display information such as notifications or emails with closing apps or opening the case covering the screen.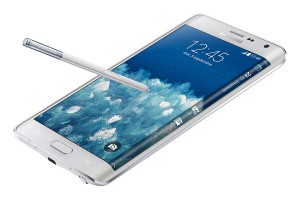 A prototype of Samsung Galaxy Note edge (source : samsung.com)
-LG
At Consumer Electronics Show CES 2013 LG introduced curved OLED television. This 55" prototype, which looks like a cinema screen, is really thin (7.56″) and is also 3D capable.
In August this year, they also presented a paper-thin (1mm thick) television than can be bent. It is attachable to magnetic surfaces on curved walls.