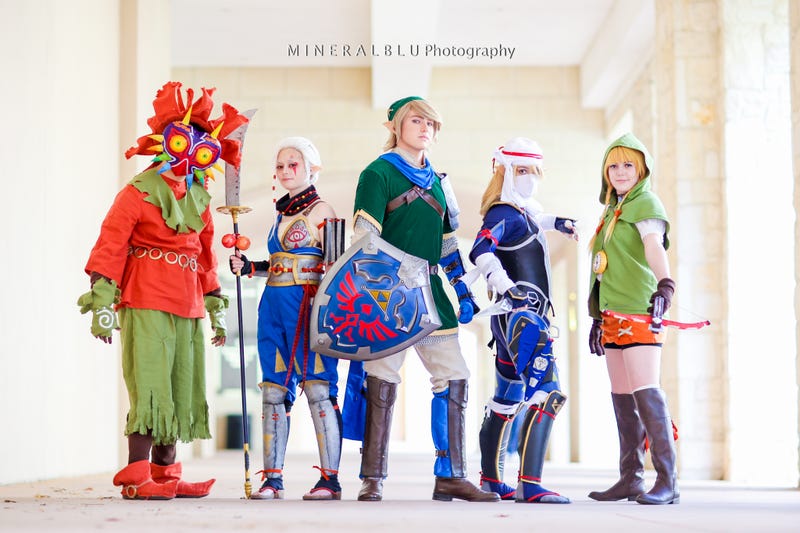 Cosplay is a Japanese word コスプレ (kosupure) coming from the contraction of two English terms : costume and role-play. This is a hobby in which participants called "cosplayers" wear costumes and accessories to represent a specific character. Those characters could come from manga, anime, comics, films, video-games and so more.
Even if "cosplay" is a Japanese term, it originally was an American hobby called 'costuming' where the main subjects in 1908 were the Mr-Skygack-from-Mars 's character from Armundo Dreisbach -A.D. Condo's science-fiction comic. But the first apparition of costuming dates back to the "futuristicostume" of Forest J Ackerman during the first World Science Fiction Convention (WorldCon) in 1939, New-York, USA. The word cosplay appears many years later during the 1984 WorldCon in Los Angeles. Japanese Nobuyuki Takahashi of Studio Hard who was impressed by the hall and the costumed fans, reported in the magazine My Anime where the two terms "costume" and "play" became コス (kosu) and プレ (pure). Cosplay was born.
Today's cosplay is more related to its Japanese "origin". Since the 2000's, cosplay's popularity has increased with the spread of anime and manga worldwide and the multiplication of conventions. But the trends are also following the development of video-games and the international success of some films such as Star Wars, The Lord of the Ring or the Marvel's films. This is why we can find cosplayers in all kinds of conventions.
Cosplay in Japan
In Japan, what actually matters in cosplay is 'appearance'. Japanese often buy their costume. This subculture is a true business, with a lot of shops selling costumes, wigs, accessories…
That explains the complete lack of cosplay contest in the country. During conventions, cosplayers are not allowed to move around, except if they don't stop for photos not to disturb non-cosplayer visitors. They are supposed to stay where they are told to.
The only cosplay contest in Japan is the World Cosplay Summit which is an international contest. As the other contests around the world, the cosplay must be totally hand-made, from the little accessory to the huge weapon without forgetting sewing the  dress.
Cosplay in Western culture
In North America and Europe, cosplay is more about performance and acting. One of the most significant things about it is the hand-made costume … Costumes which have been bought are completely banned from contests and the market of cosplay is mostly based on wigs and crafting materials such as fabrics, worbla, EVA foam, …
Contrary to Japan, western countries' conventions welcome the cosplayers which are now a huge part of the animation. Visitors often come to take photos and to watch the numerous contests. In those contest, the cosplayers are judged according to their acting, the quality of their hand-made cosplay. As said before, bought costumes are banned, and the cosplayers wearing those are called hall-cosplayers and are definitely apart from classic cosplayers.