Last week, David Fincher released his latest movie, Gone Girl, based on the novel by Gillian Flynn. The book was a huge success in 2012 and became a bestseller after 8.8 million copies were sold worldwide in 40 different languages. It's a thriller, but also a reflection on what  modern marriage can be.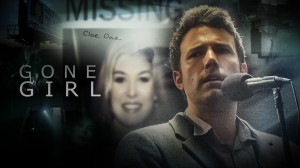 The movie begins with a man voice-off :
"When I think of my wife, I always think of her head. […] What are you thinking? How are you feeling? Who are you? What have we done to each other? What will we do?"
Gone girl could have been a simple love story. Nick (Ben Affleck) meets Amy (Rosamund Pike) during a party. They are young, they are gorgeous, they both have a strong personality and of course…they fall in love. Finally after several years they will get married. But one day Amy disappears.
That's precisely when you understand you're watching a thriller that director David Fincher has meticulously structured. Suspicions turn to the husband. Neighborhood, media and police accuse him of murder. Doubts, lies, violence, infidelity … When the police find Amy's diary, that apparently so perfect marriage reveals what it really is: hell. And obviously, her disappearance is a put-on act.
After a twist in the story, you understand that, if you thought the movie was about finding about " Did Nick kill his wife ? ", the real question David Fincher wants to ask us is :" Do you really know who you're living with ? ". The characters reveal all their fragile psychology under the pressure of family, media and police. This definitely makes us wonder about how resentments can progressively invade a couple's  life . How long will it take before love turns into hatred and violence?
Gone girl is a real success. The story is truly captivating and what's more, David Fincher has perfectly adapted it to the big screen. It's been top of the US box office since its opening week and has made more than $78 million so far.